A Family of Engineers: Rich Wargo
August 2, 2021 | Blog | 2 Minute Read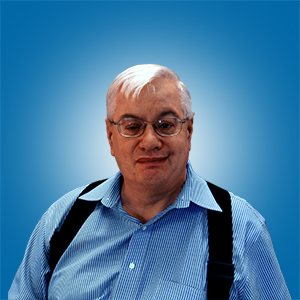 Rich Wargo, P.E is well known around the office of General Control Systems for going the extra mile to help co-workers who are in need. He does this because he firmly believes in passing on the knowledge and experience he has acquired over the years to the younger engineers so they can progress exponentially. He has this passion for engineering because of the environment he was raised in, which was a family of engineers. Rich had two uncles that graduated from Yale University with degrees in Mechanical Engineering and Rich saw how successful they were at doing their jobs and fell in love with it. His father on the other hand, was the youngest of four and was a math teacher. Rich actually had his father as his teacher for four straight years and definitely knew that his father's profession was not what he wanted to do as a career. However, Rich did gain his love for science and math from having his father as his teacher during high school. He then attended Clarkson College for Technology in the 1970s, which is now known as Clarkson University and received his degree in Chemical Engineering.
How did Rich end up at General Controls Systems? Well, he grew up in Milford Connecticut and when he was just ten years old he moved to Schoharie County in New York. When he went to college he attended job fairs where he landed his first job with Union Carbide in West Virginia doing process simulation. After some years there he decided to go south to Texas and enjoyed working with Frito Lay for over a decade. He also spent a couple years at LTV Aerospace and even went to Tampa, Florida to work for Badger Engineering and Constructers. There he got well acquainted with his supervisor who knew someone in New York that needed some help so Rich moved back north and worked for him for a few years. Once he was working in New York he decided to stay in the area because he had family around him and found General Control Systems.
Rich has been with General Control Systems since 2012 with hopes to retire before 2030. He wants to keep working until he feels as if it just isn't fun anymore. There sure are rough patches here and there, but once it becomes continuous then he knows it will be his time to retire. He loves the flexibility of his job and being able to work on projects that are always different than the last. Rich is a big family man and plans to prioritize spending time with family once he retires.
Contact Rich at 518-270-8045
Find Rich at 17 Corporate Circle, Albany, New York 12203