New York State Preparedness Training Center for Swift Water and Flood Rescues
December 8, 2021 | Case Studies | 3 Minute Read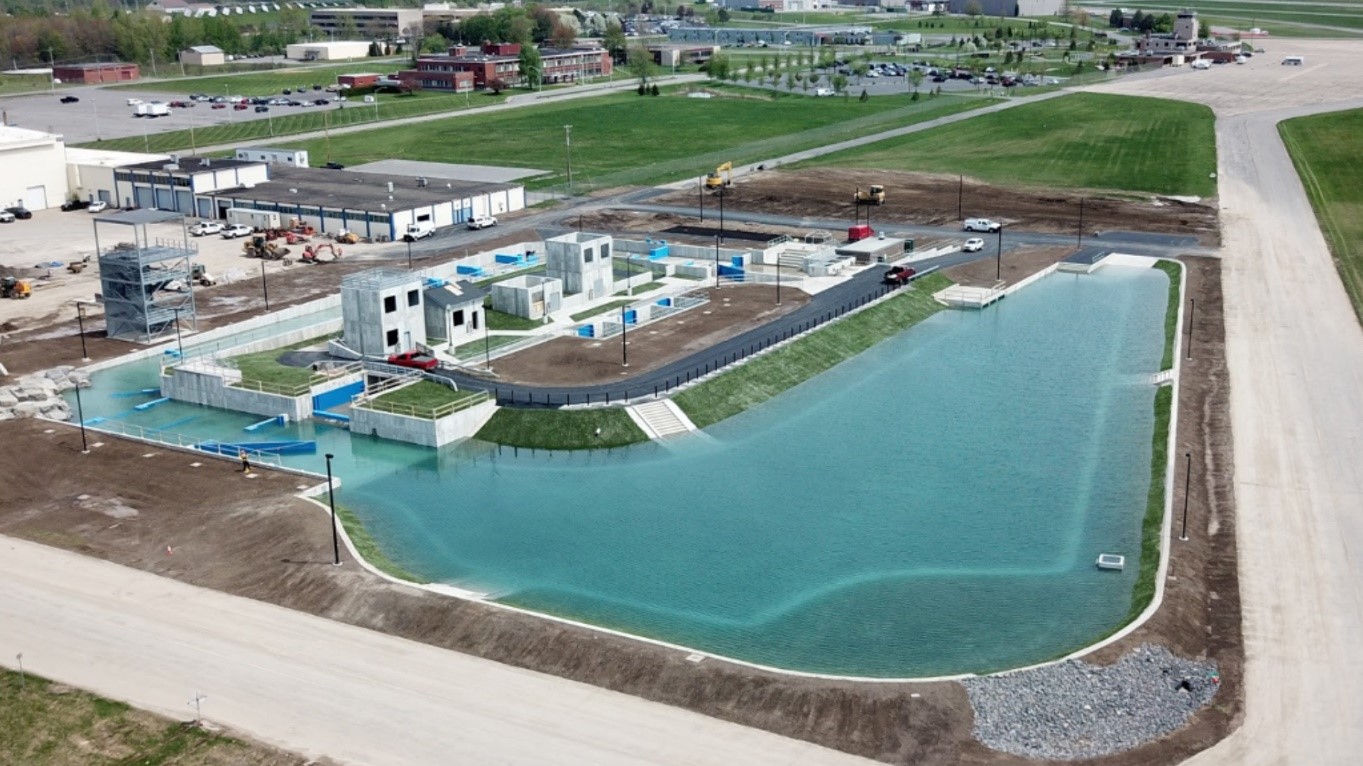 Project Summary:
The New York State Division of Homeland Security and Emergency Services' Preparedness Training Center was built in Oriskany, NY to provide training facilities for emergency responders that face swift water and flood rescue situations. This state-of-the-art facility is the only NYS-located training center of its kind dedicated to training the state's fire, law enforcement, and EMS responders on the technical skills necessary to perform water rescues in controlled conditions. The facility occupies approximately seven acres and includes a three-acre pond, a concrete swift water channel, and an urban flood simulator to allow rescue personnel to train in flooded streets and buildings.
Opened in 2018, the Swift Water and Flood Training (SWFT) facility gives first responders the opportunity to practice both swift water and flood rescues in a real-life, and controlled, environment. The training center features a 3-acre pond, a concrete swift water channel with configurable obstacles and an urban flood simulator that allows rescue crews to train in flooded street and buildings. The SWFT facility utilizes three large pumps that can pump out more than 100,000 gallons per minute of water to create a variety of realistic flooding hazards, including rapids, a flooded city street, and drowning or stranded victims. Responders can safely train numerous scenarios that would otherwise be challenging and dangerous to recreate by using natural elements.
Role of General Control Systems
In order to make this facility work, a controls and operator interface system is necessary to safely turn water pumps on and off and to control the environment per the training requirements. An Instrument & Control System Supplier (ISS) was required by the project owner to provide all required controls and instrumentation to accomplish operational requirements. General Control Systems was selected as the ISS for this project.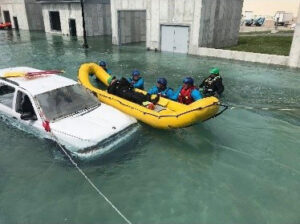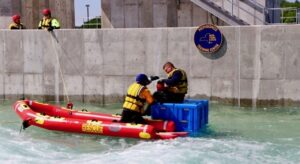 The scope of supply included a Rockwell Allen Bradley PLC-based controller with all engineering and programming required for implementing operating logic for various pumps, and then a separate operator station that allows an operator to select different training course configurations (swift water and flood courses are available) as well as changing and controlling the water rate conditions being used by the training personnel. The scope also included the necessary instruments for operating and controlling the facility as well as the emergency safety shutdown stations located throughout the training areas.
Project Successes
As a key member for project execution and specifically maintaining the schedule for opening of this important facility, General Control Systems worked closely with the New York State client and its other contractors to deliver a working system ready for operational use on time. The experienced staff was able to help optimize the design of the ISS for functional and cost efficiencies.
In 2019, this project was nominated for the prestigious ASTORS Homeland Security Awards Program that highlights the most cutting-edge and forward-thinking security solutions coming into the market.
General Control Systems is a Silver-Level System Integrator in the Rockwell Automation's Partner Network Program, is a Certified Member of the Control System Integrators Association (CSIA) and maintains an ISO-9001 registered quality management system. We provide engineering and support services to the industrial and municipal marketplace.