The Face of Dallas: Mark Podbielski
November 29, 2021 | Blog | 4 Minute Read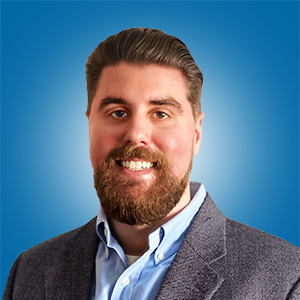 As General Control System, Inc's Business Development Manager of the Midwest Region, Mark Podbielski is the face of GCS's second location in Dallas and is looking forward to applying our 25 years of experience to the Texas market. Before breaking ground at our new location in 2019, he gained experience in various roles at GCS in Albany.
Mark was first introduced to GCS during college where he got a job here in our warehouse. Although he enjoyed his time working here, he didn't imagine that there would be an opportunity to continue with GCS after graduating from Siena College in 2009 with a Bachelor's degree in Marketing & Management. He graduated during the great recession, a time when jobs were hard to come by for college graduates, but was offered an interview for a full-time position as an Estimator and Marketing with GCS. After estimating, he transitioned to Outside Sales and then Service Manager. As service manager, he was able to draw on his problem-solving skills to work with the service team to respond to customer needs and provide custom solutions.
One of the biggest challenges he had faced at GCS became one of his most rewarding experiences with the company thus far. In 2011, GCS began working on the most robust project they had ever seen. This project would require the creation, testing, and implementation of a quality control system. Mark viewed this challenge as an opportunity and gave it his all throughout the process. He came out on the other side with new skills and a deeper understanding of our industry. One challenge specific to our industry is that all end users have different familiarity levels with controls and different applications, making each job we do highly customized. He applies what he learned from that experience in his role today in finding the right solution for customers based on their specific needs.
The GCS team would describe him as inclusive, accountable, and fun to be around. When Mark isn't working with our customers or rounding up our colleagues to get lunch together, you can find him on stage either as the drummer for Next Station, Electrick Noise, hired gun gigs or performing standup comedy. His biggest interest is music because it allows him to be creative.
According to Mark, the most rewarding part of his job is working with others to solve problems. He enjoys explaining what we do to people in different trades. He will tell you that what we do seems like magic to people on the outside and likes to explain the work our team does to make it seem that effortless. He enjoys networking and conversations that help him to understand his customer's needs and allow for mutual learning. This is why he's looking forward to continuing to apply what GCS has learned over the past 25 years to Texas. He believes increased competition raises the bar for everyone and ultimately benefits the end user. He's always had an entrepreneurial spirit, so he was excited to take the opportunity to take on Texas and run with it.