The Expansion Plan: Ken Hackett
June 20, 2022 | Blog | 4 Minute Read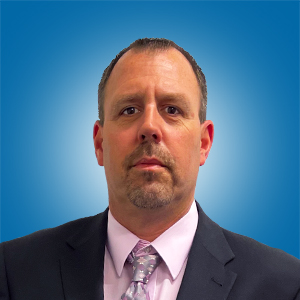 After serving the capital region for over 25 years, General Control Systems' expansion plans are in the execution stage. If you follow GCS on social media, you may have noticed they've added talented team members and have expanded their geographical footprint over the past year. One notable new team member that joined GCS in 2021 is Ken Hackett, bringing along 35 years of industry experience to the company. Ken, Director of Business Development, shares his perspective on the company's growth.
Ken's career in automation began with a part-time summer job in a warehouse for an electrical distributor. This led to an opportunity in sales, which gave him the challenge to fuel his career. He spent 25 years in distribution, learning firsthand how vendor relationships are critical to integrator growth. Ken has learned, "Patience gets you a lot more than reacting". He explains that listening to the full story and gathering all information is key to finding solutions for customers. He also emphasizes the importance of integrity, and the value that maintaining credibility has in this industry.
For several years he had noticed a knowledge gap in the industry and has recently started to see it come back to life with young engineers straight out of college and people changing careers to be a part of it. He is driven to help others grow by ensuring the transfer of knowledge and providing the tools for them to be creative in finding solutions. Watching others be successful is what he finds most rewarding about his role.
Ken expects GCS to transform from a 75-employee company to a 150-employee company within the next year while continuing to find ways to better serve their customers – through organic growth, acquisitions, and by reaching new markets and clients. He sees opportunities for GCS to add value in all existing markets, but explains that building a solid foundation and continuing to cultivate talent is most important for sustainable growth. Ken and the rest of the GCS management team share the sentiment that "our people are our biggest asset" – spending time throughout the interview process to ensure the candidate is the right fit and is eager to contribute to the GCS mission.
Since joining GCS, he's not only seen growth in the number of employees, but also growth in operational excellence. With the leadership of Randy (GCS President) and Greg (GCS Vice President), regular cadence guides operational efficiencies and the team now has tools to better manage customer expectations. He adds that Randy is a unique leader because he cares about the team on a personal level and has created a culture that makes people want to walk through the door each morning – "it's one big family, a vibe that is hard to describe until you're a part of it". The momentum of this growth has led to everyone working hard to raise the bar.
Ken is energized by the opportunity to contribute to GCS during this time of expansion as Director of Business Development. The GCS team would describe Ken as positive, fair, and fun to work with. When he's not in the office, he enjoys playing golf and being close to the water. He hopes to one day live on the beach when he retires.
Contact Ken at 518-270-8045
Find Ken at 17 Corporate Circle, Albany, New York 12203