24 Years: Keith Myszkowski
August 30, 2021 | Blog | 3 Minute Read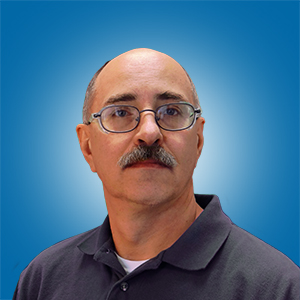 Keith Myszkowski has been with GCS since May, 1997, which was during the very first year the company began in August 1996. He was born and raised in the state of New York, starting his life in Cooperstown, then grew up in Stuyvesant Falls, and now resides in Canaan with his wife of 33 years, Mia. Keith was adopted at just 6 months old and also made an appearance in a movie called "Bridge to Adoption" which went into detail about the adoption process. One of his favorite things to do is watch football and is known as possibly the biggest Dallas Cowboys fan in the office. He has been a fan of the Cowboys ever since he was little when his father's team (Pittsburgh Steelers) and the Cowboys would face-off in the Super Bowl during the 70's. Keith loved picking the rival team of his father's in almost every sport, including baseball in which his father liked the Yankees so Keith decided to be a Red Sox fan. Keith's biggest hobby when he was young was racing cars and has slowly stepped away from it as he got older, but now he owns a red 1962 corvette!
How did Keith end up at General Control Systems? Well, he started working at a company as a sawyer doing 12 hour shifts at night, but got tired of that and started looking elsewhere. His mother happened to work at an integration company next door and informed him that they were looking to hire someone who didn't need any experience to build some panels. He went under the wing of a guy who was retiring soon and went thru hands-on training to build dock lever panels for trucks. After that he got to move onto some bigger panels and learn more about the process. During his years there he got well acquainted with Clay Robinson who would then leave that integration company to create General Control Systems. Keith didn't want to stay at that integration company anymore and thought GCS would be a better opportunity for him so he asked Clay if he could work for him.
During his 24 years with GCS, he stated his biggest challenge has been having to work with multiple different project managers. This is sometimes difficult because everyone has their own way of doing things. Some project managers will run projects perfectly while others aren't always up to speed. He also finds it difficult to train new employees because it can be an overwhelming amount of information to be learned so it takes a lot of patience to be the trainer. But, Keith does a great job with the training because he has a good understanding of what the new employees are going through as he was once in the same exact position. During his years with the company, his most rewarding experience was a SUNY NFX project. This was one of the biggest projects the company has ever done and it also ended up being some of the highest quality work we have ever executed. A dozen huge panels were built and the customer had come to check on the first couple panels, but quickly learned that we were doing a near perfect job and figured he no longer needed to check on the quality of work before shipping and instead wanted it shipped directly toward him once the panels were finished. Absolutely none of the panels had a single mistake and Keith felt this was the most rewarding project he has ever been a part of. Keith has seen everyone and everything during his time at GCS, including multiple employees that start out in the integration shop and be promoted to engineers and even estimators.
Keith plans on being the Integration Shop Supervisor for GCS till he retires and then will spend most of his time working on cars and spending time with his grandchildren. He will also be able to focus on his biggest passion, which is helping his daughter with her flower business along with his wife. Maybe one day you will see Keith at your front door delivering flowers his in Cadillac CTS V that he plans on purchasing.
Contact Keith at 518-270-8045
Find Keith at 17 Corporate Circle, Albany, New York 12203