Your Telemetry System is at RISK!
December 19, 2022 | Blog | 3 Minute Read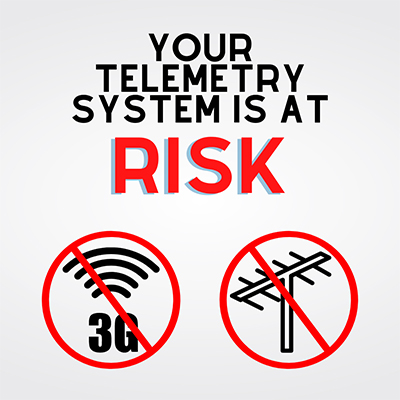 Whether your telemetry system is licensed, unlicensed, or cellular based, your system could potentially be at risk.
Obsolescence: Due to advances in technology within the last few years many manufacturers have made older models obsolete with no direct replacement available. This becomes an issue for consumers in need of replacement devices (dreaded lightning strike, etc.) or expansion of existing systems.
Cellular Radio
It's no secret that all major cellular providers (AT&T, Verizon, T-Mobile, etc.) have retired their 3G networks with 4G potentially not far behind as they migrate toward 5G. Certain older 4G devices may no longer be compatible with the new LTE/5G network.
Manufacturers are routinely releasing firmware updates that should be installed to eliminate potential security threats.
Licensed and Unlicensed Radio
Although radio based systems are not affected by the constant change in cellular networks, they do have vulnerabilities.
Environmental Factors: Due to natural or structural changes within your system's topography (tree growth or addition of new structures within the radio path), a system that has worked for years may no longer be reliable.
System Hardware Maintenance: Even with a picture perfect installation, every site requires routine maintenance or damage from the elements over time can affect the operation of the RTU. Surge suppression, grounding components, antennas, and other components all need to be inspected regularly. Integrity of the weatherproofing and condition of hardware is integral to the proper operation of radio networks.
FCC License Renewals: Licensed radios regardless if a private or public network, require renewals every ten (10) years. The FCC will suspend and eventually cancel public network licenses if they are not renewed after 90 days of the renewal date.  Public/Municipal networks are not charged a fee and renewal only takes a few minutes on the website.
GCS can Help!
If you are not sure where your network stands, we can help. Contact us today to discuss any concerns or schedule an on-site evaluation of your system. GCS can also assist with any FCC licensing questions you may have.