Implementing a SCADA System for Flood Mitigation
October 16, 2023 | Case Studies | 3 Minute Read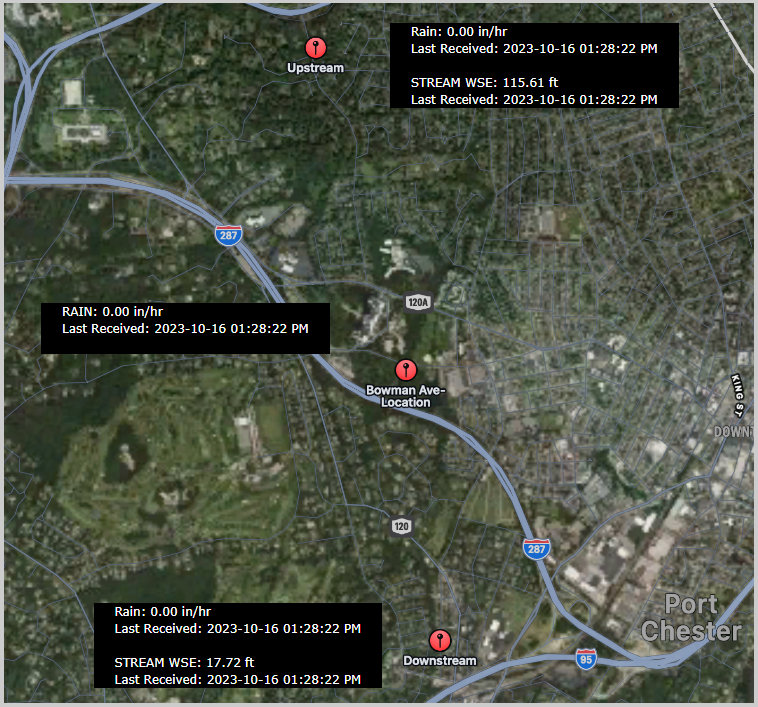 This case study explores the successful implementation of a Supervisory Control and Data Acquisition (SCADA) system by General Control Systems (GCS) for the City of Rye, New York. GCS designed and deployed the SCADA system to collect data from the Blind Brook river and provide real-time monitoring through a public website. The project aimed to gather five years of stream data to develop a control algorithm for flood mitigation at the Bowman Avenue Dam. The case study highlights GCS's comprehensive solution, including hardware integration, cloud database storage, website development, and secure data transmission.
Background
The City of Rye faced recurring flood issues caused by unpredictable water levels in the Blind Brook river. To address this challenge, GCS was contracted to design and implement a SCADA system capable of collecting and analyzing critical data from the river. The data collected would enable engineers and other firms to conduct future analyses and develop effective flood mitigation strategies.
Objectives
GCS had the following objectives for the SCADA system implementation:
Real-time Data Collection: Develop a reliable system to measure water levels, rain gauges, and interface with existing sluicegate controls to provide real-time data on river conditions.
Cloud Database Integration: Store collected data in a secure cloud database for long-term storage and easy access.
Website Development: Design a user-friendly public website that displays live data and provides easy navigation, data extraction, and analysis for engineers and other stakeholders.
Secure Data Transmission: Establish redundant Wide Area Network (WAN) connections using FIOS primary and cellular secondary access, with IPSEC secure VPN tunnels to ensure data security during transmission.
Solution Implementation
GCS implemented the following components to achieve the project objectives:
Hardware Integration: Deployed sensors to measure water levels and rain gauges, and integrated them with Rockwell PLC architecture for data access and SCADA system for data acquisition.
Cloud Database Storage: Utilized a secure cloud-based database to store collected data, ensuring scalability and easy access for future analysis.
Website Development: Designed and implemented an open source and mature technology based solution for data, a customized website from scratch, incorporating JavaScript for data visualization and plotting, offering an intuitive user interface and streamlined navigation.
Data Transmission and Security: Established redundant WAN connections using FIOS primary and cellular secondary access, combined with IPSEC secure VPN tunnels to ensure reliable and secure data transmission.
Results and Benefits
The implementation of the SCADA system by GCS yielded several positive outcomes:
Real-time Monitoring: The SCADA system provided the City of Rye with real-time data on water levels, rainfall, and sluicegate controls, enabling prompt decision-making during flood events.
Flood Mitigation Insights: The collected stream data over five years will facilitate the development of a control algorithm for the Bowman Avenue Dam, assisting in flood mitigation efforts.
Public Website: The user-friendly website allowed engineers and firms to access and analyze river data conveniently, fostering collaboration and knowledge sharing.
Secure Data Transmission: The redundant WAN connections and IPSEC secure VPN tunnels ensured data privacy and integrity during transmission, safeguarding sensitive information.
Conclusion
General Control Systems (GCS) successfully implemented a SCADA system for the City of Rye, New York, enabling real-time monitoring of the Blind Brook river. By designing and integrating sensors, cloud database storage, and a user-friendly website, GCS provided engineers and other stakeholders with access to live data, facilitating flood mitigation analysis and future planning. The robust infrastructure and secure data transmission mechanisms ensured the reliability and confidentiality of the collected information.
General Control Systems, Inc has provided engineering and support services for over 26 years and is a Rockwell Recognized Systems Integrator and an Endress+Hauser Preferred System Integrator. With offices in Albany, Orlando, Arlington, and Dallas, GCS holds an ISO-9001:2015 certified quality management system and is a Certified Member of the Control System Integrators Association (CSIA).