Albany Service Team Superstars!
June 15, 2023 | Blog | 3 Minute Read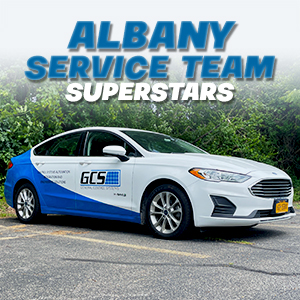 Introducing the GCS Albany, NY Service Superstars: Our service team is knowledgeable, dedicated, and committed to delivering the highest quality service and support to our customers. When it comes to servicing your equipment, you can count on GCS to be there for you, delivering exceptional results every time.
At our corporate office in Albany, NY, we take great pride in our service capabilities and the experience of our service team. Our team of experts are experienced with motion, multi-access equipment, and legacy components and are equipped to handle even the most unique and difficult service calls. With a cross-knowledge of both electrical and mechanical backgrounds, and a deep understanding of industrial processes, our team is well-prepared to tackle any challenge that comes their way. They've seen it all!
The service team excels at troubleshooting – when a machine goes down and every minute counts. They also perform regular system maintenance, modify PLC and SCADA programming, and upgrade existing systems with obsolete equipment. GCS offers custom maintenance contracts and after hour services, providing support to our customers whenever they need it.
Meet John Wall, a seasoned professional with over 30 years of experience in the field. Starting off his career in industrial manufacturing, John is skilled in troubleshooting PLC and SCADA/HMI systems. He is experienced in process control design and implementation, PID loop tuning, and instrumentation. John shares that his favorite jobs are the unique and challenging jobs that you don't see every day. A memorable project for him was working on the controls for a Swiftwater/Flood Rescue, a training complex for first responders for swift water, flood rescue, and emergency boat operations.
With 13 years of experience as a service engineer, Josh Biittig has been able to apply his knowledge in instrumentation & process control, robotics, and radio telemetry systems to countless customer applications. Josh enjoys going to a different customer site each day and solving their unique problems. He helps customers find solutions to refine and improve their processes.
Service Engineer, Mark Peabody, has been in the field since 2012. He's become an expert in drives across all major platforms through his experience over the years in addition to PLC and SCADA systems and instrumentation. He applies this knowledge to all industries, always leaving the customer with a smile on their face.
GCS is a leader in providing high-quality integration services and our support doesn't end once an integration project is completed.